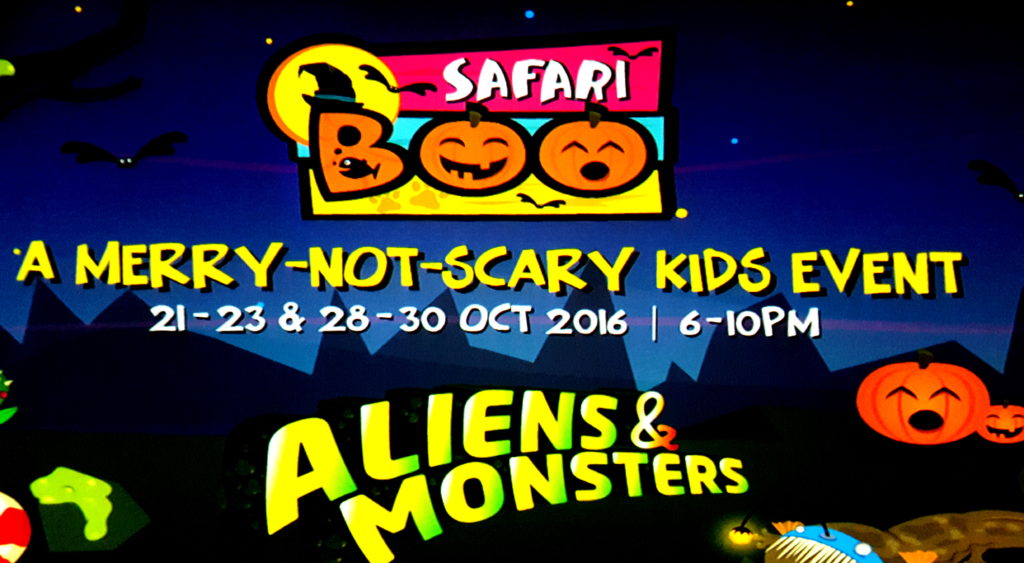 Safari Boo is back again for the 3rd year and we are happy that we have the chance to preview it to bring you the highlights for the event + a GIVEAWAY at the end of this post! In fact, I am so excited to share about this fun event that I churn out this post on the very same night!
We had our first Safari Boo in 2014 when they hosted their first event which was a resounding success. This year's theme is on Aliens and Monsters. Before you go dismiss this as a scary Halloween event, fret not, this is a super friendly Halloween trick or treat kids-friendly one that you will not want to miss.
What you can expect are many friendly Aliens and Monsters to give out TREATS to the little ones, crafts and games, and 2 new shows featuring 'Monster Boo' and 'Mermaid Mania'. Let's take a look at what we like!
TRICK OR TREAT AT PARTY CENTRAL
There are some activity booths here set up by the partners and sponsors where your kids can have a go at the games and win little gifts. This is outside River Safari. Look out for the signs.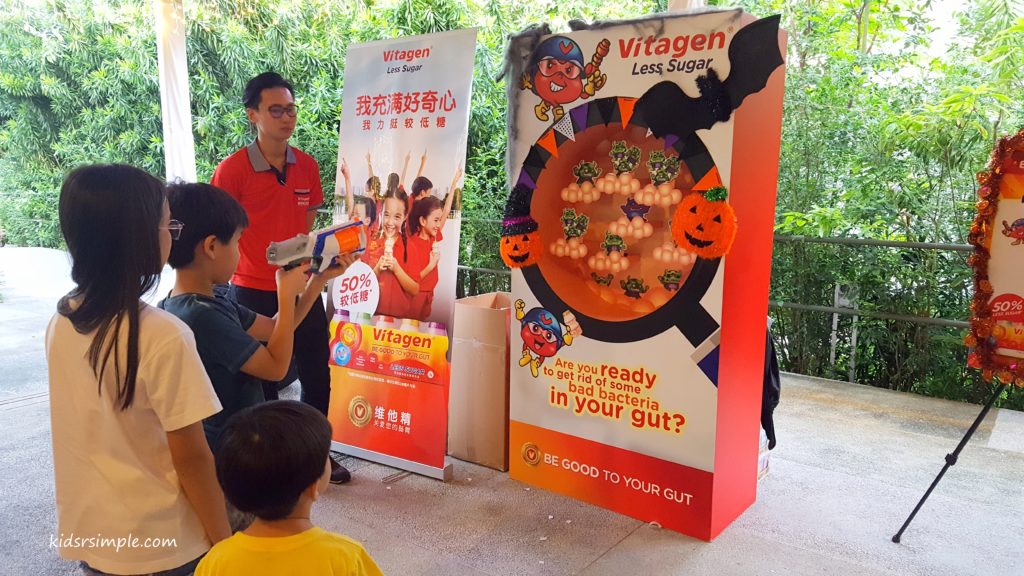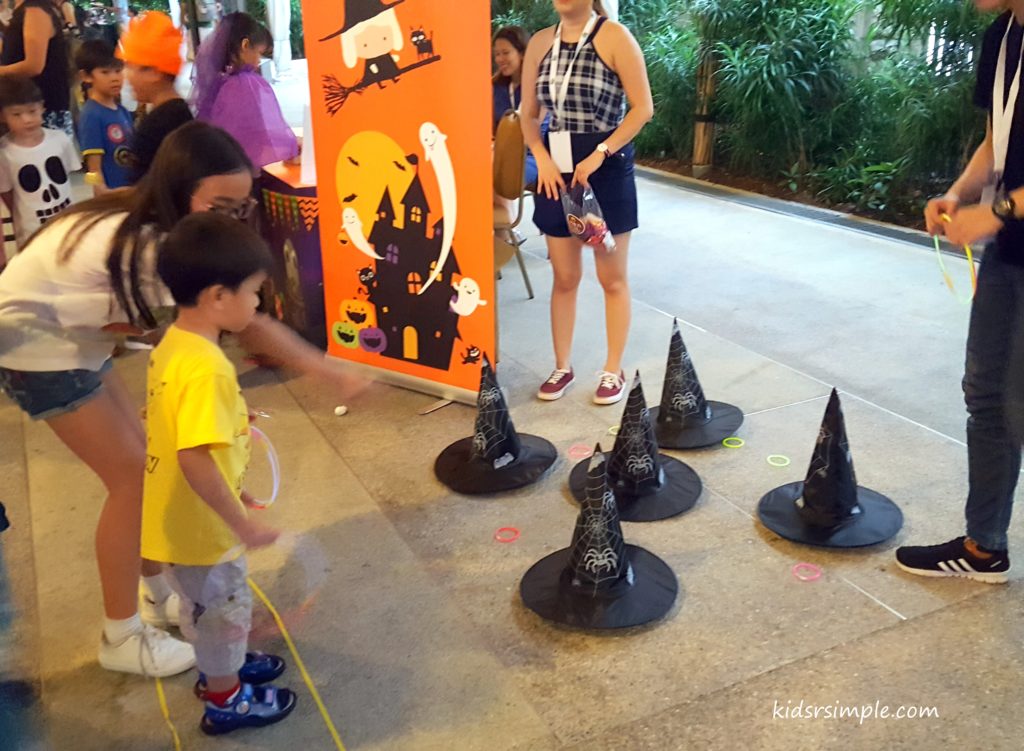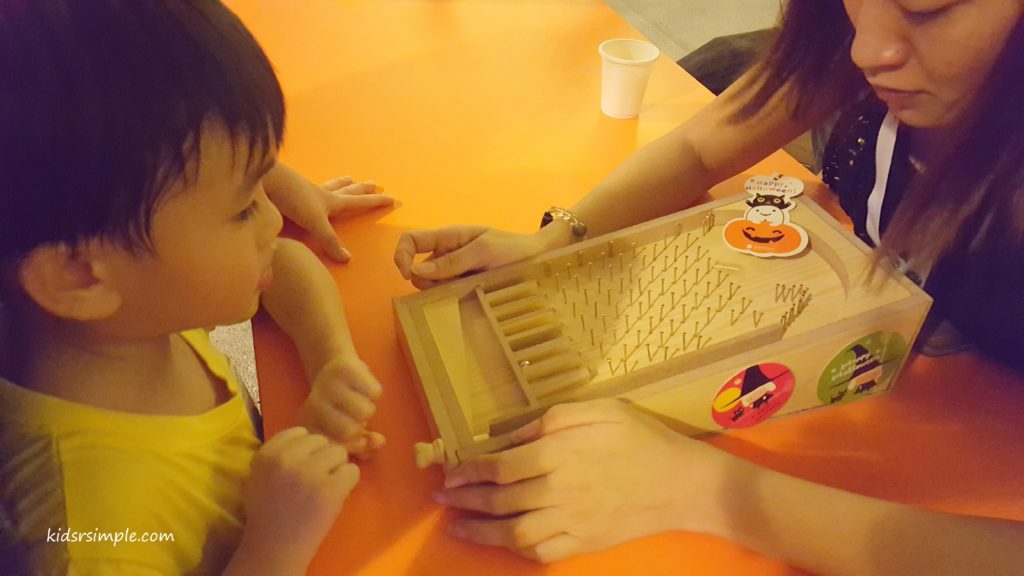 My toddler won some chocs from Sophisca Booth to much envy from his Jie Jie and Gor Gor!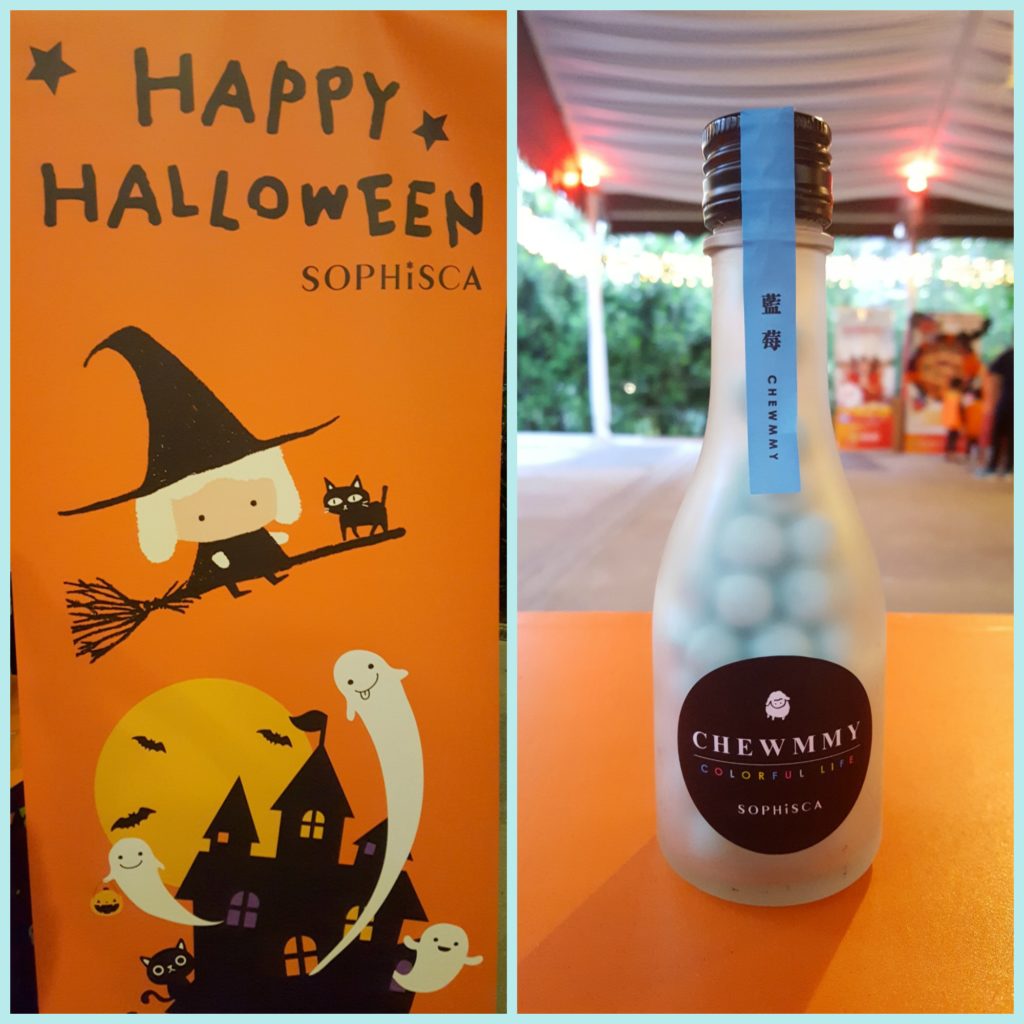 As we enter the River Safari, each of the kids was given a little treats bag which were filled up pretty quickly to the delight of the kids!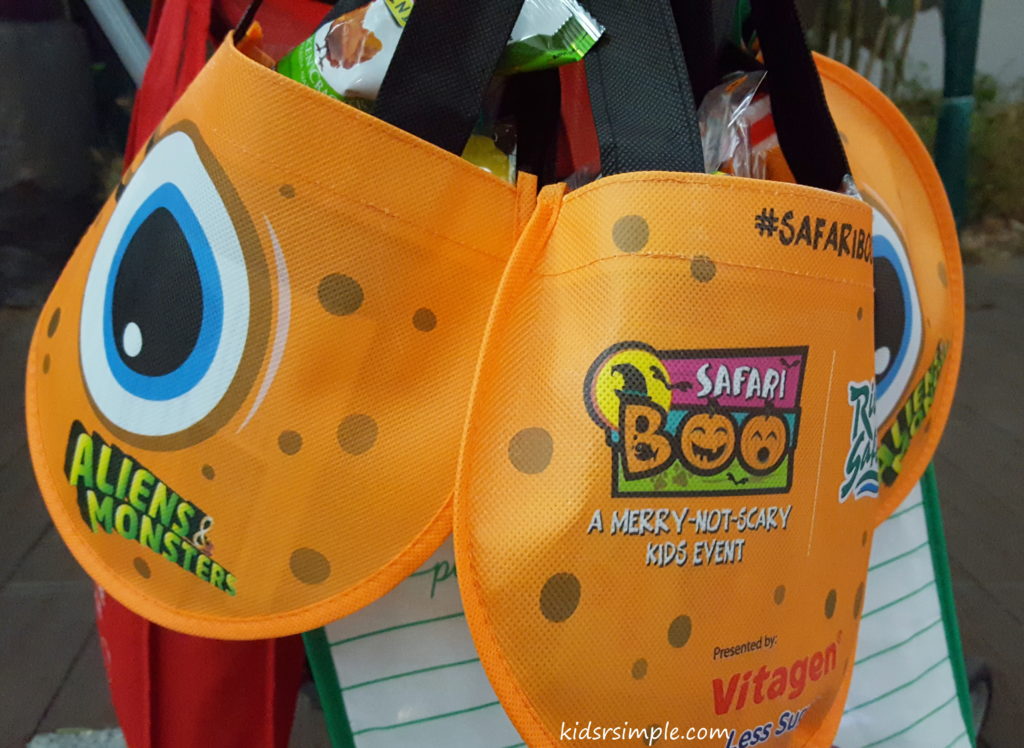 As before, there are many interesting Halloween Riddles to entertain us.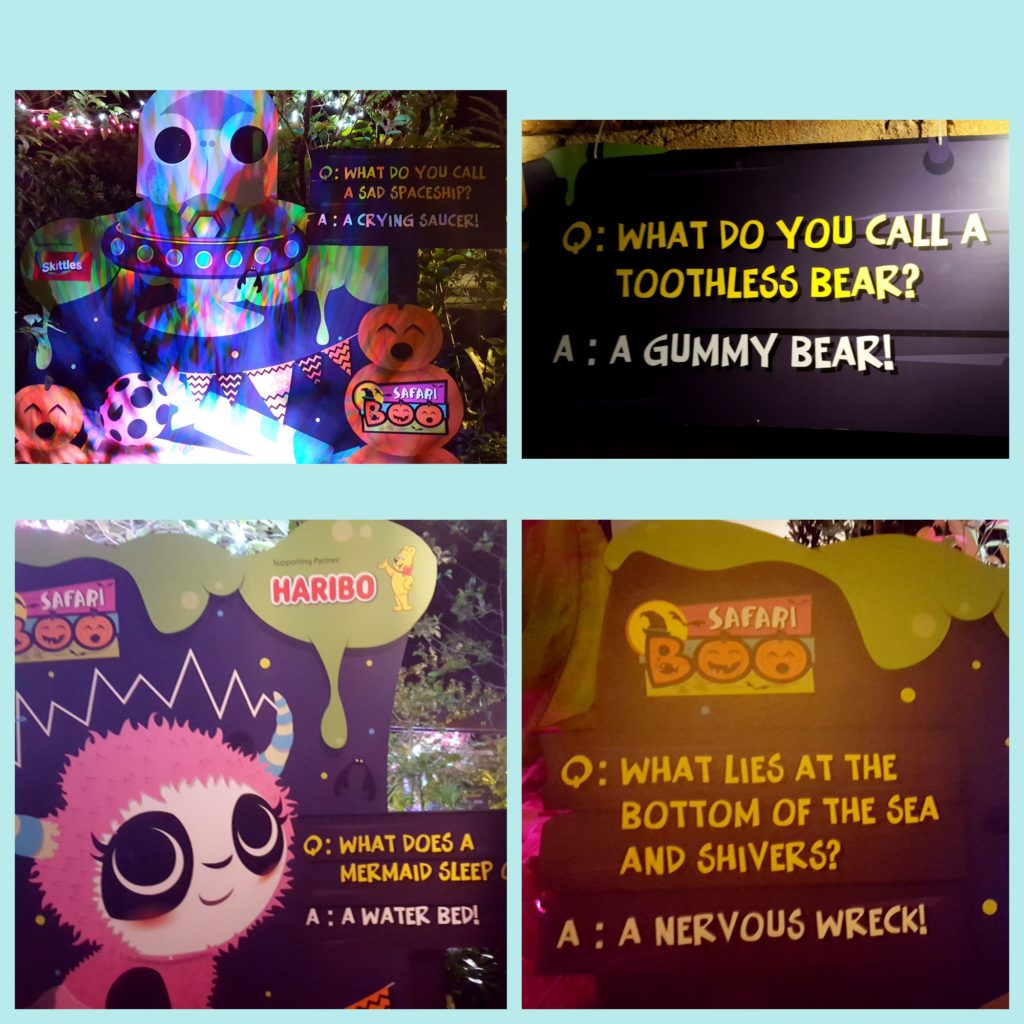 If you have never been to River Safari in the night, Safari Boo will let you experience the night view of animals with soft lightings and a little Halloween atmosphere. Have you seen the ceiling leading to the entrance of River Safari?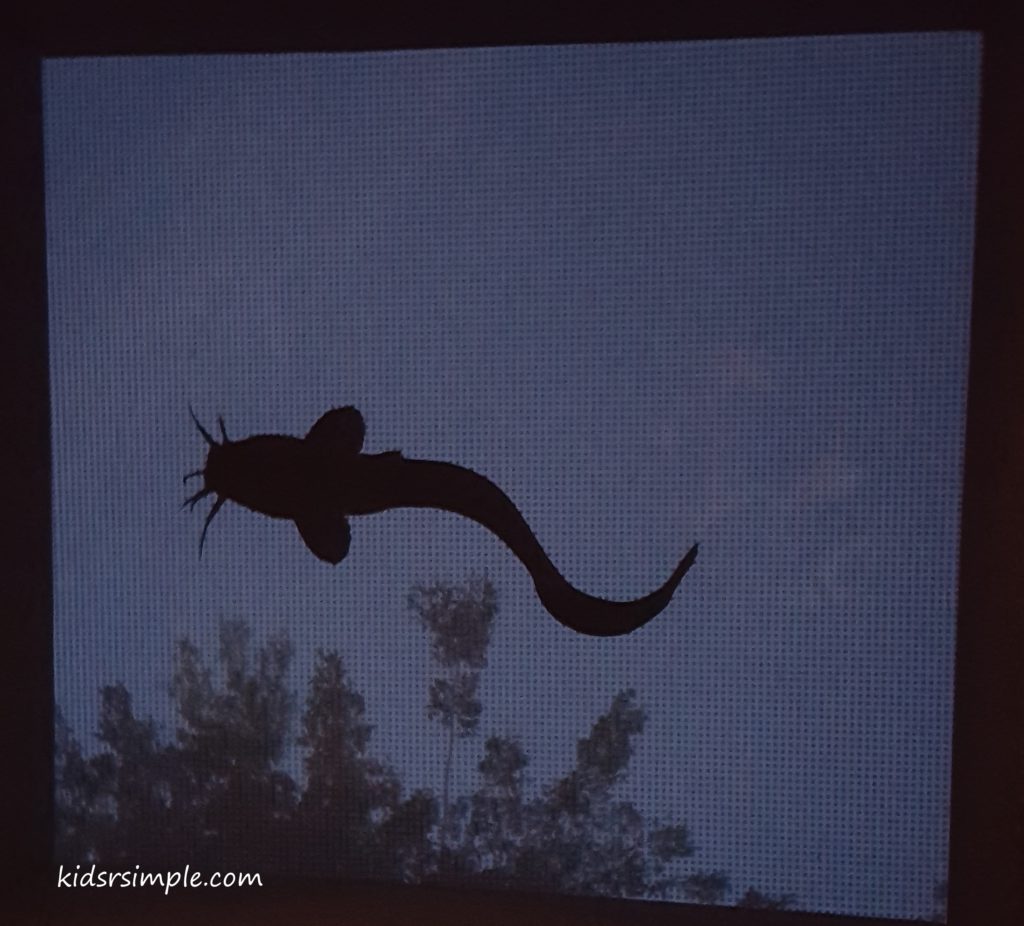 You will still get to see these animals and fishes active in the night.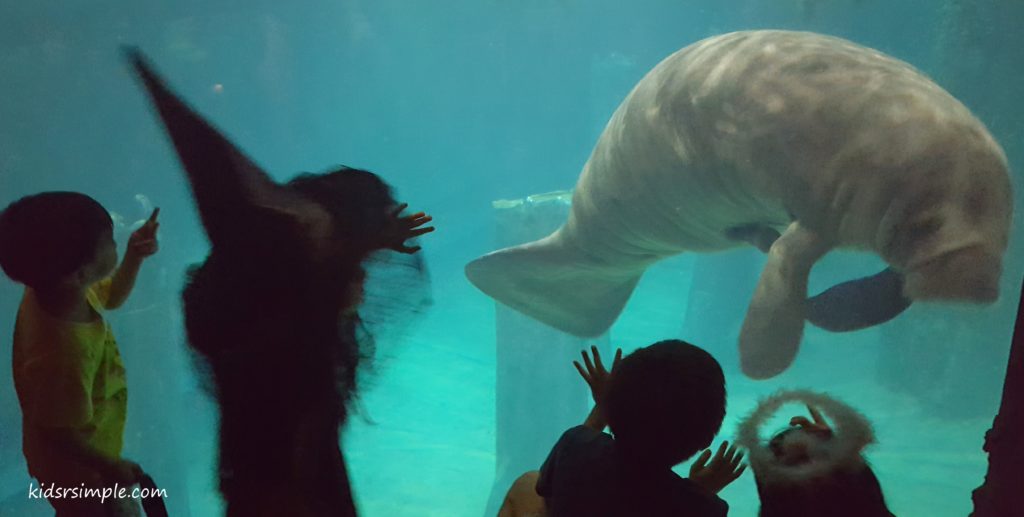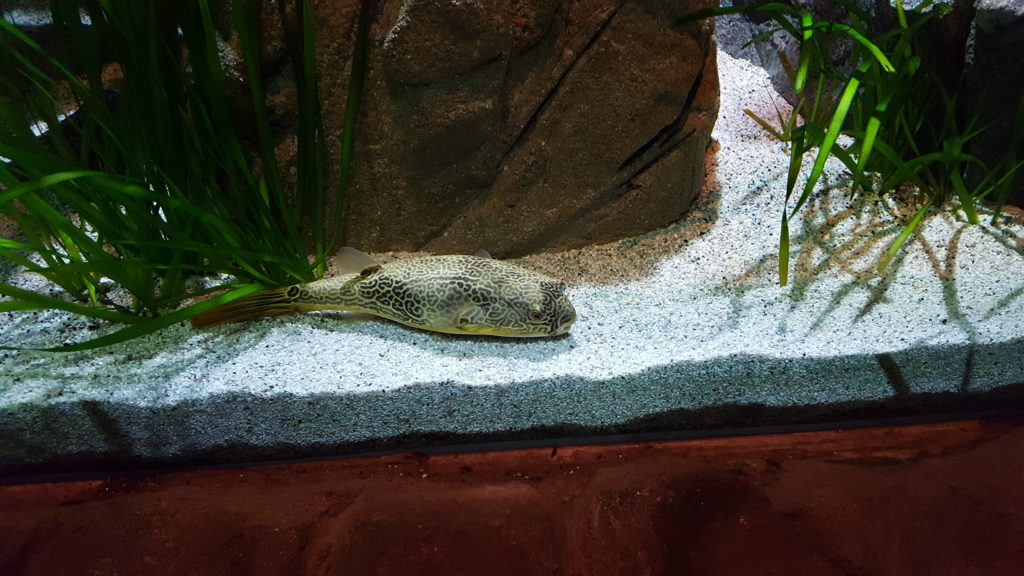 Extra-terrestrial Encounters (Mascots)
Everywhere we went, we saw these friendly encounters dressed in lit up costumes that were all insta-worthy and all they wanted to do was to fill up the little ones' treat bags. Isn't that lovely?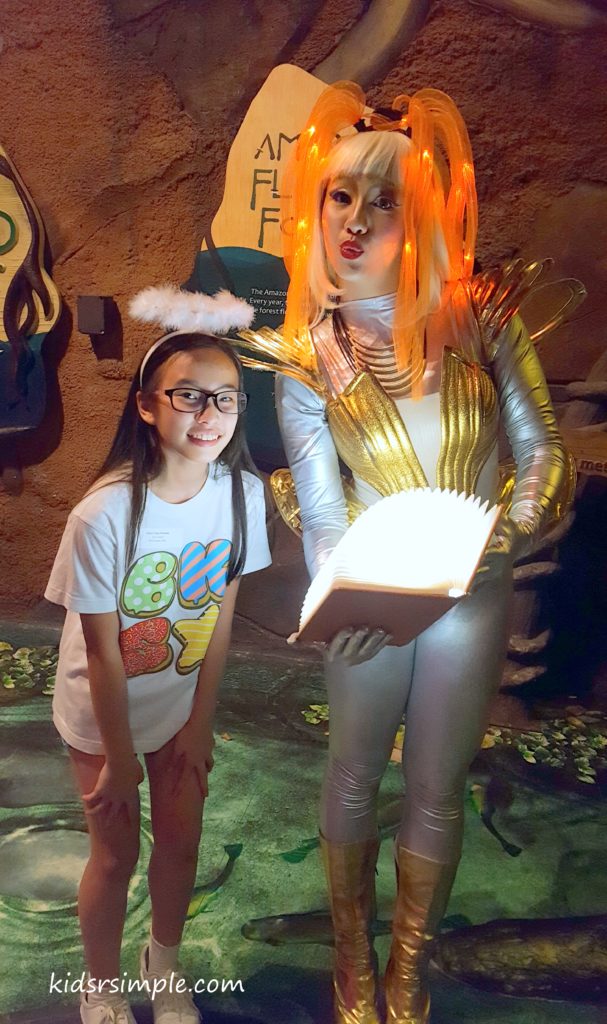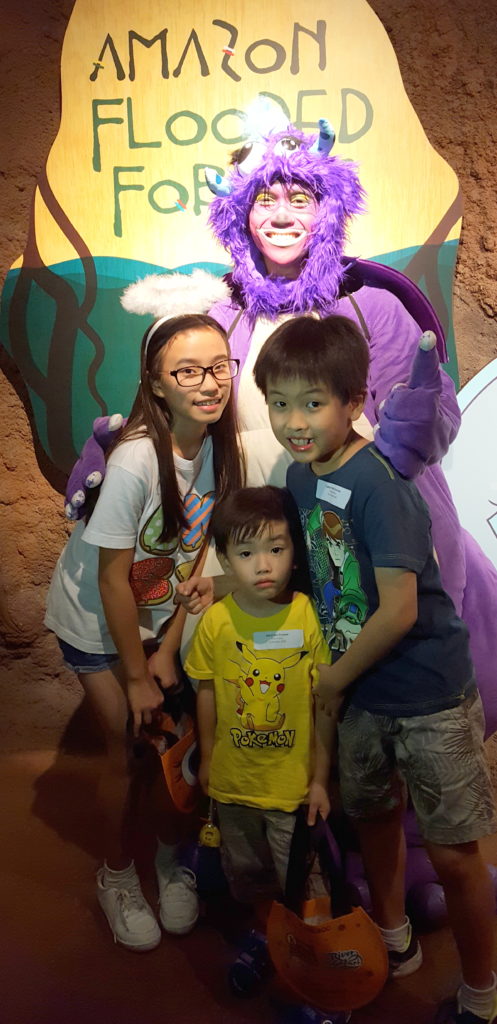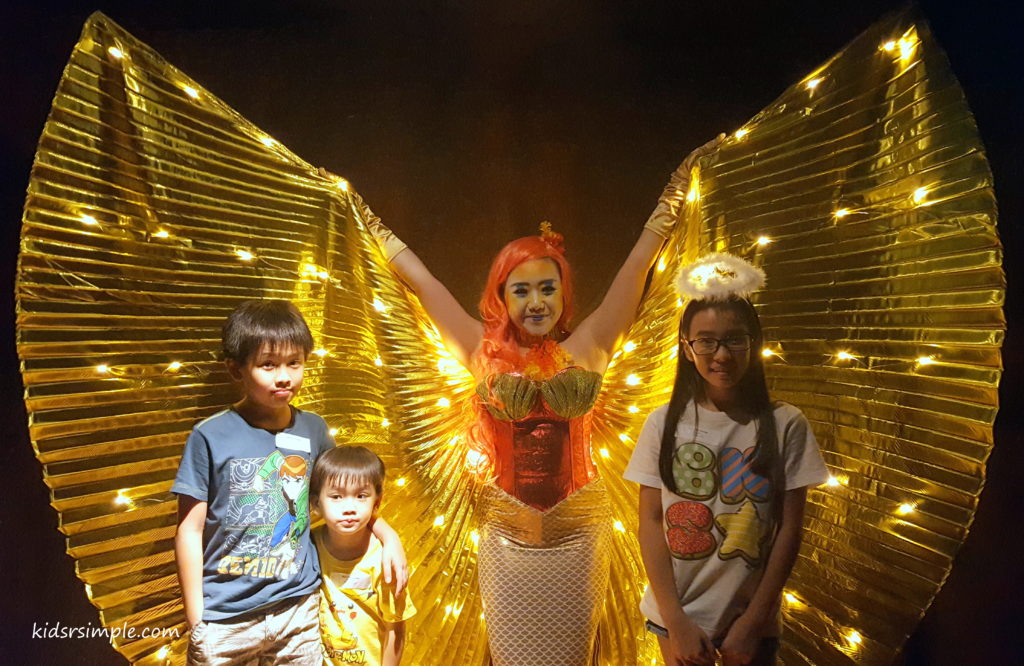 Performance and Show – Mermaid Mania
Mermaid Mania will feature a choreographed underwater musical performance by mermaids. Be mesmerised by the beauty and grace of the mermaids of myth as they swim amongst their real-life counterparts – the manatees.
Look at how the manatees chase after the Mermaids' tails!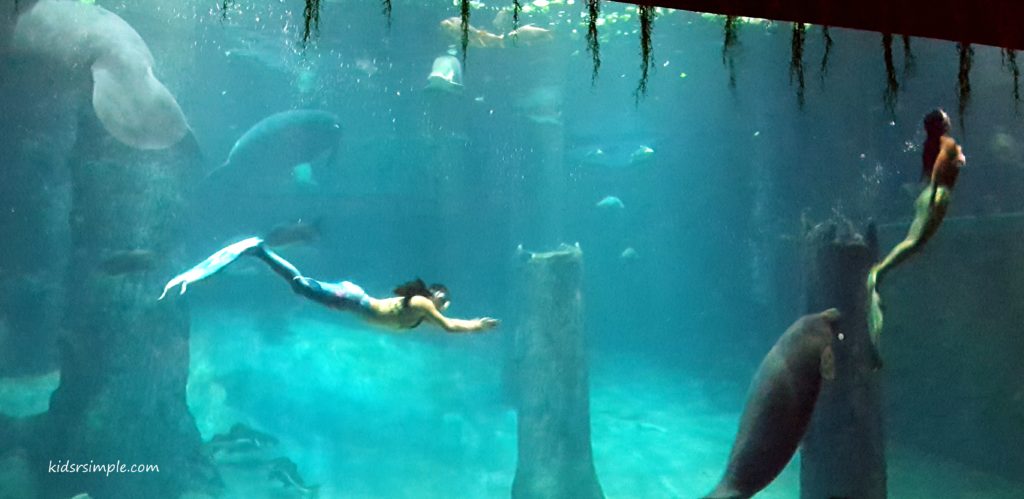 Performance and Show – Monster Boo! Animal Presentation
At Monster Boo! Animal Presentation, kids can join forces with monsters, aliens and their animal friends such as the slithery python, scaly iguana and mischievous pelican in their battle against the evil Doctor V.
There are a few showtime for this performance to make sure you will not miss this interactive show that all kids love. The show is engaging to all adults and kids alike, and you will see many animals as part of the cast. I shall not spoil the surprise and am going to show you only a few teasers here.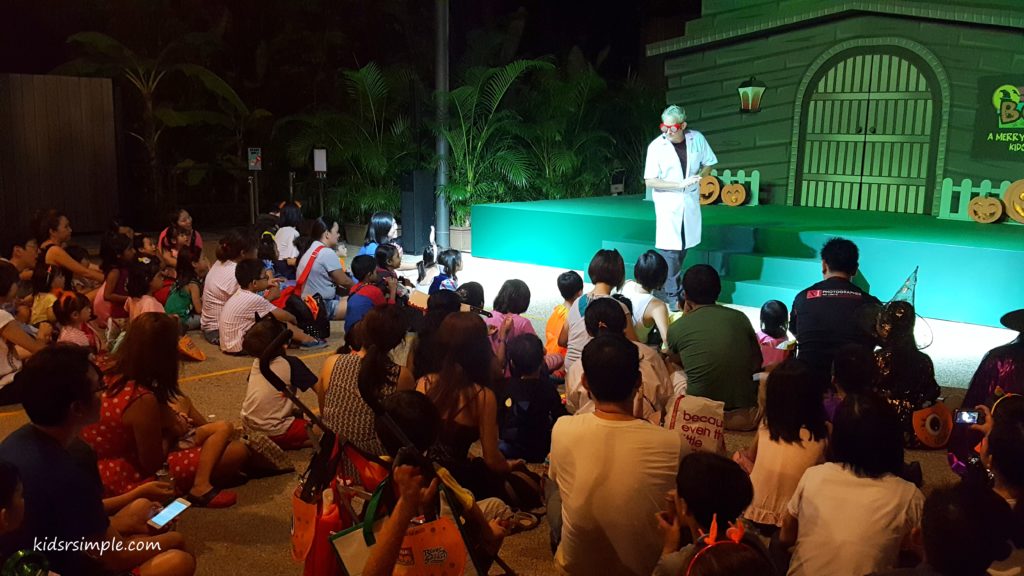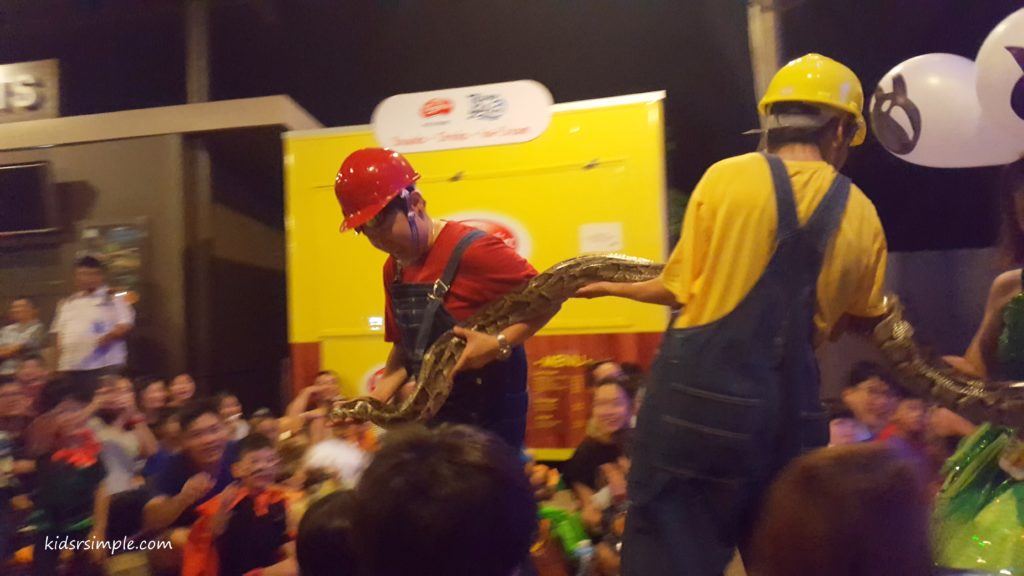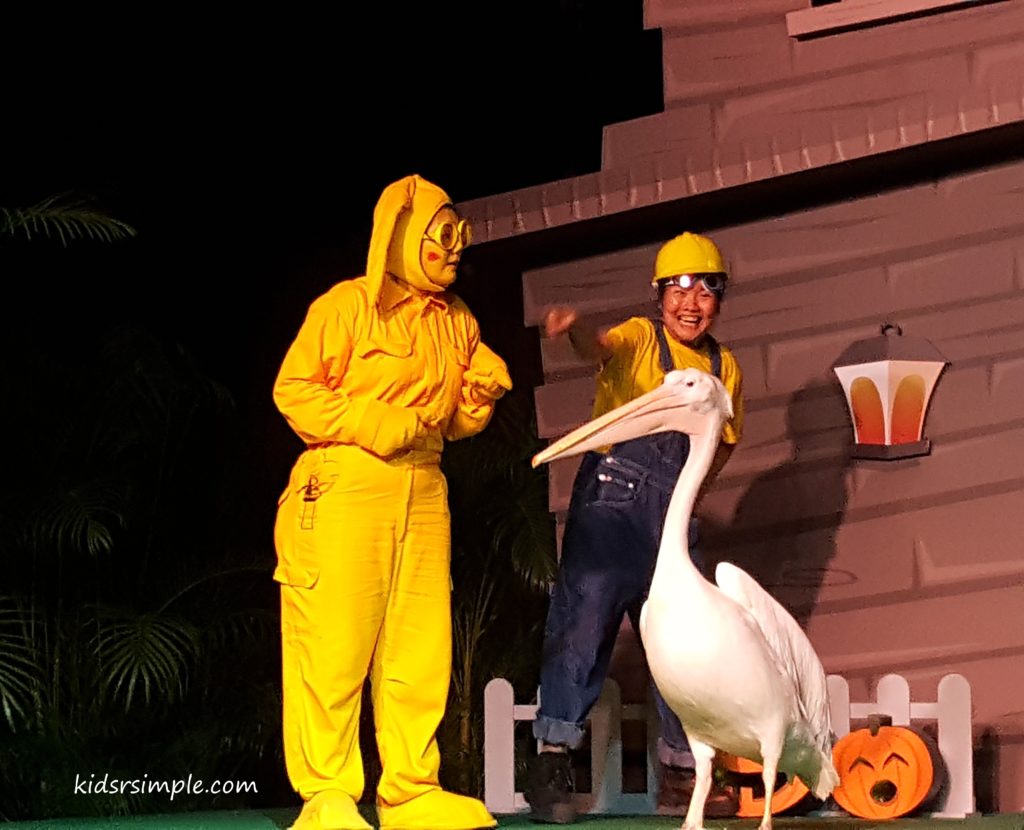 Alien Funshop & Alien Inc. (Arts and crafts and games)
There are 2 places with activity booths. One is near the Mama Panda Kitchen restaurant and the other is near Jia Jia and Kai Kai 's home. At the activity booths, solve the mysteries of real-life aliens—invasive animal species—which do not belong and why they should not be kept as illegal pets. These are educational booths that help the kids understand how and why we should protect animals. Kids can also try blending in with the new alien and monster inhabitants with face painting and other craft activities.
Alien Invasion Booth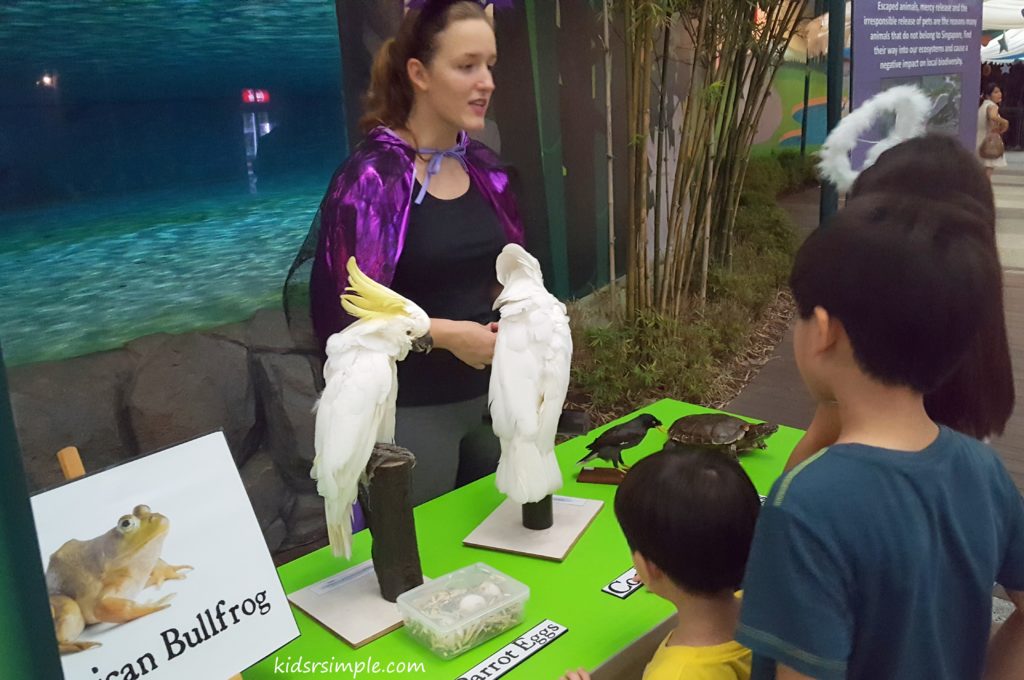 Illegal Entry Booth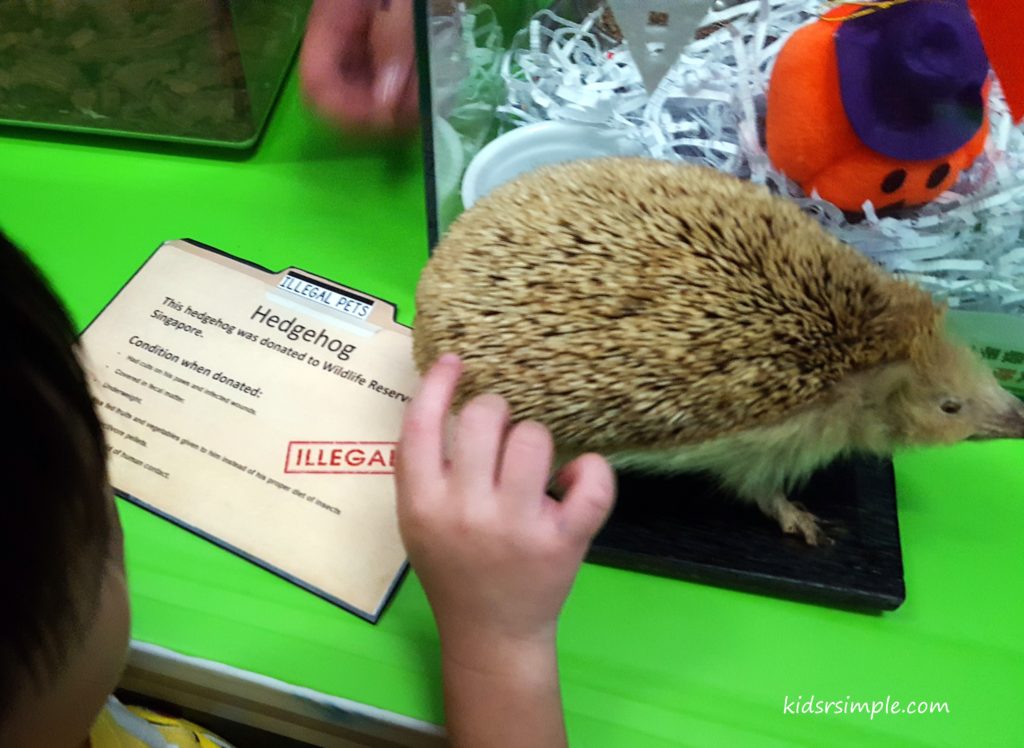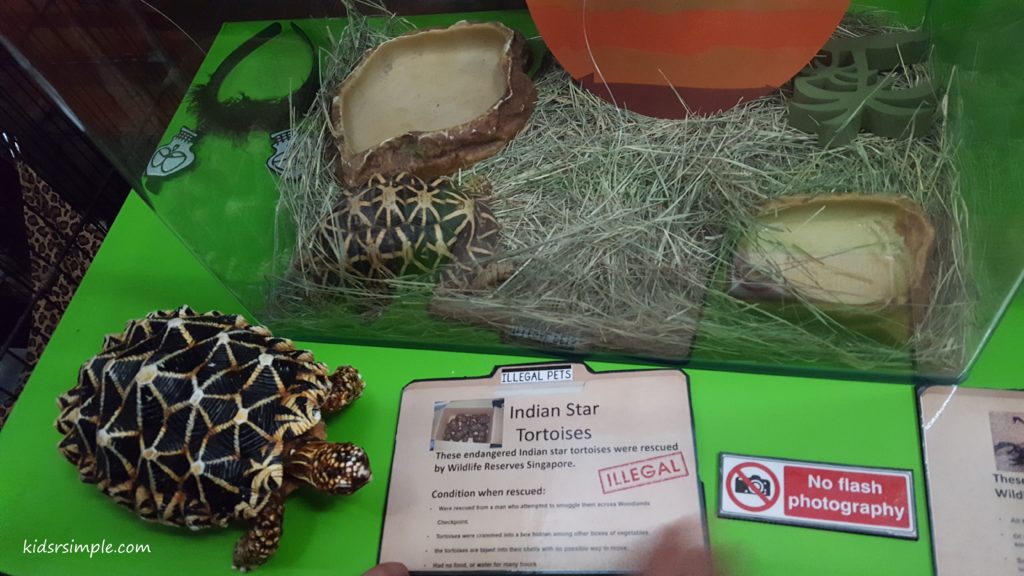 Stamp Our Stand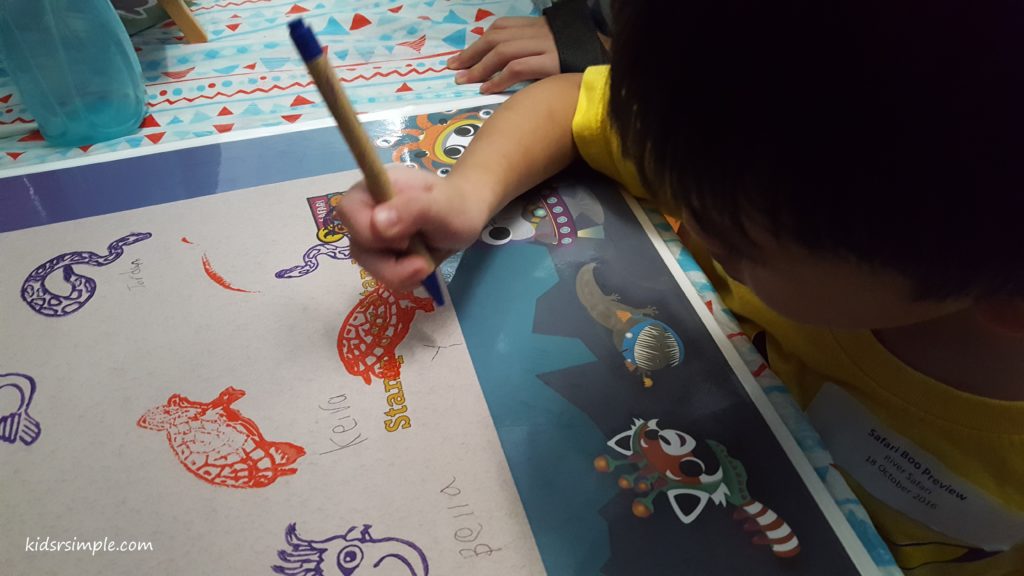 Alien UFO Booth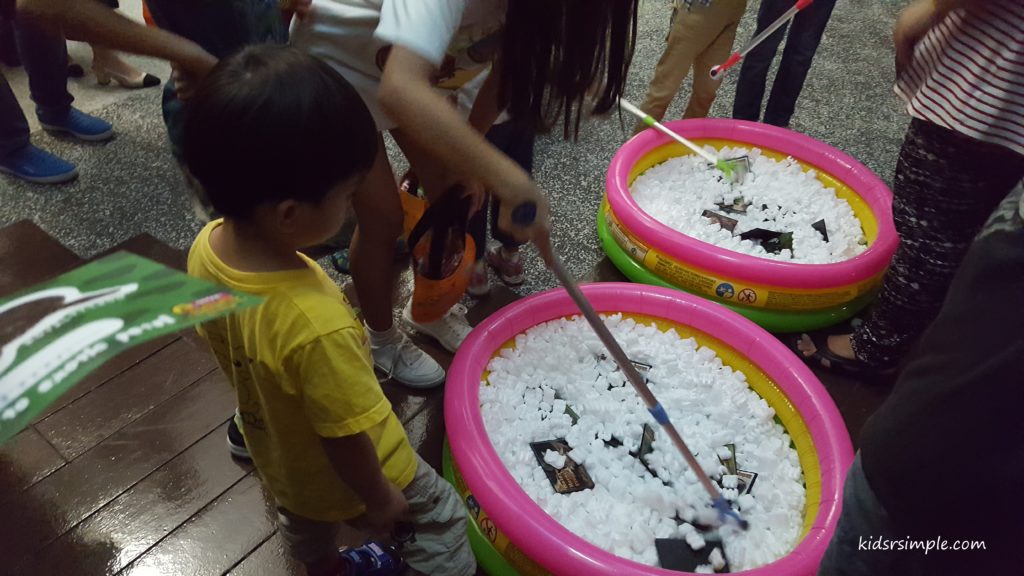 Smuggler Smack-Down Booth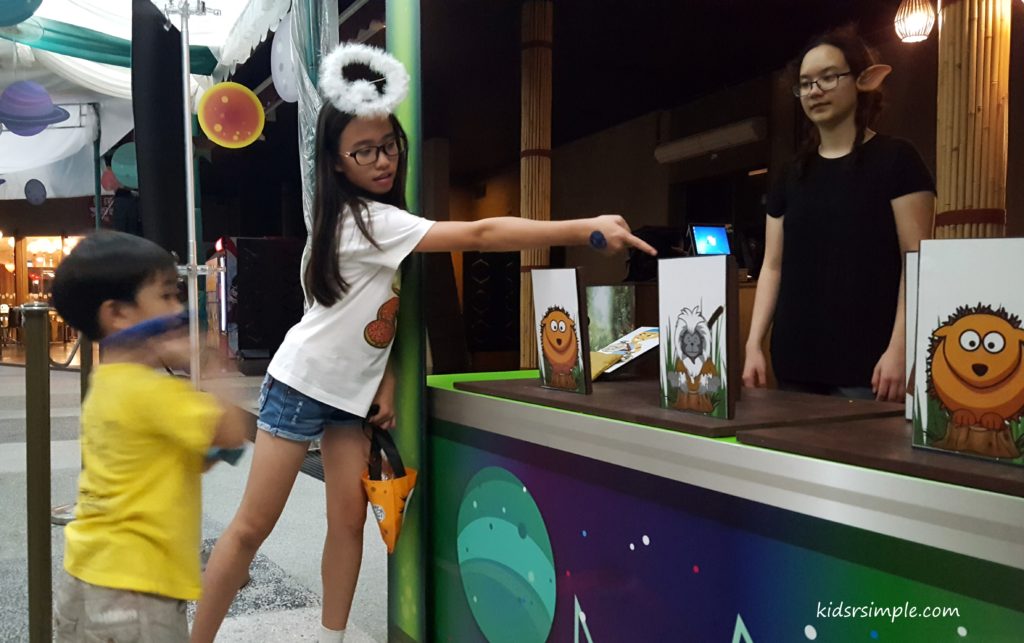 Alien Fun Shop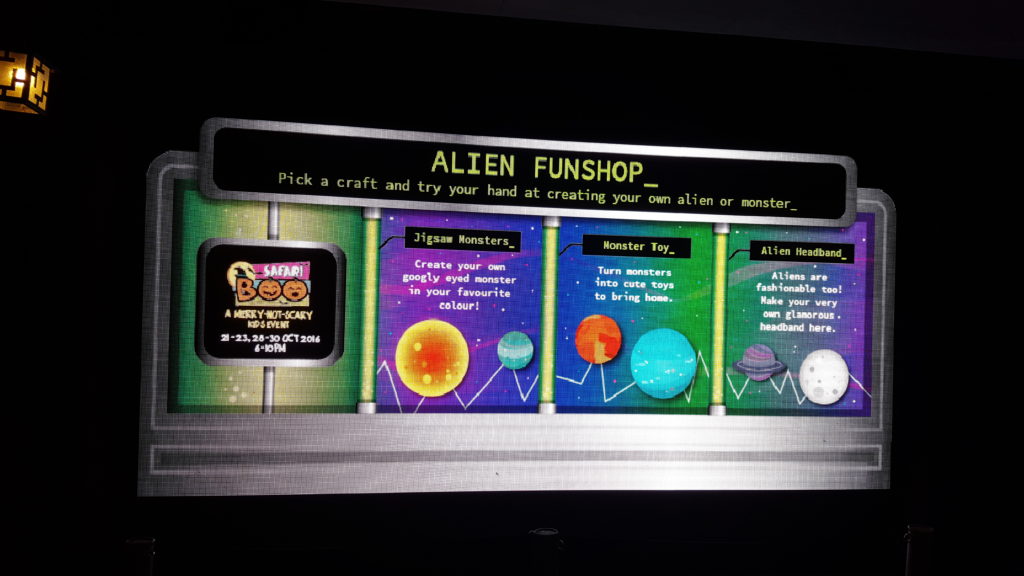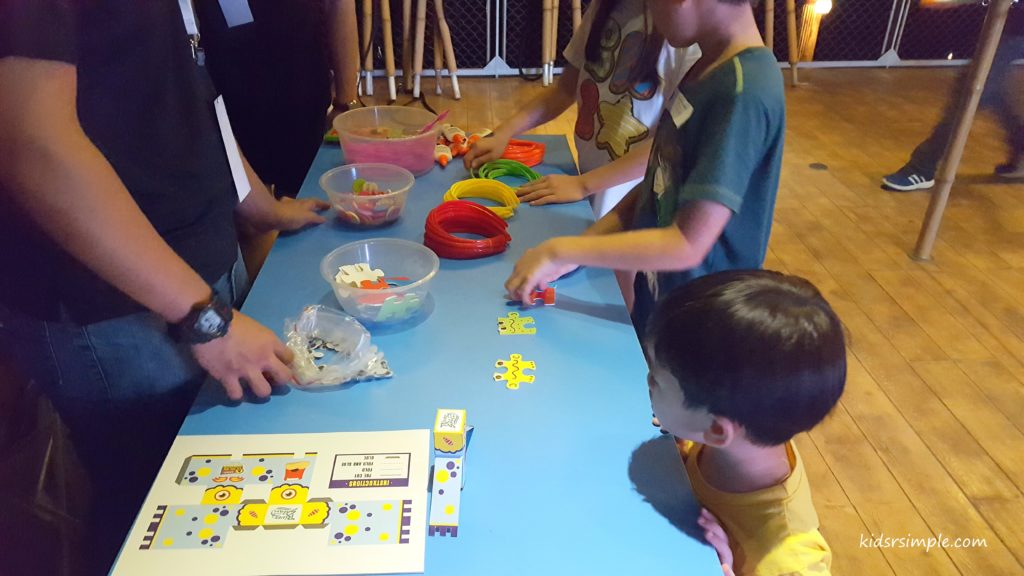 We take a stroller with us whenever we bring the kids to the Singapore Zoo, River Safari and Night Safari just in case any of the kids is tired and it is good for carrying bags too. I must say, our stroller went in with one bag of water bottles and came out with 5,6 bags of treats and prizes! So, if you are planning to go to Safari Boo, do come with strollers, or big bags to keep those treats which are spilling from the small treat bags!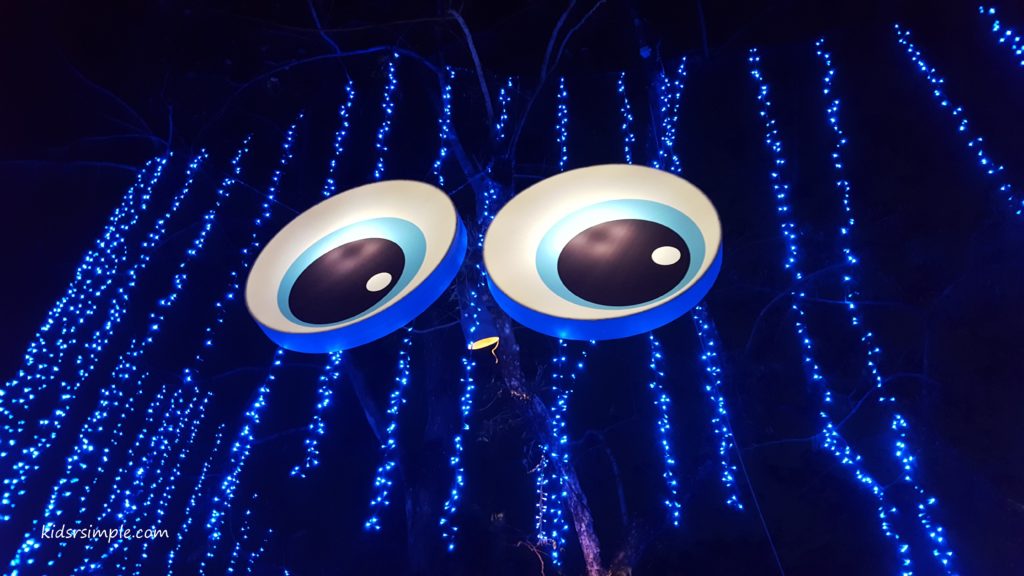 Safari Boo is held over 6 nights: 21, 22, 23, 28, 29 & 30 Oct from 6-10pm. Tickets for Safari Boo are only available online.
GIVEAWAY! (contest is closed)
Thanks to the organizers, I have a set of 4 tickets to give away to one lucky reader!
Note the details below:
Date: 23 Oct (Sunday)
Collection: Show identification at River Safari Counter for collection of tickets
How to enter the giveaway:
Simply share this post on my instagram post (@kidsrsimple) or my facebook post by tagging 5 people. Do note that instagram or facebook accounts set up solely for giveaways will not be considered. Giveaway ends at 21 Oct, 1700 and shall be announced on instagram and facebook page after that.
Congrats to Jocelyn Choo for winning the set of 4 tickets!!
If you do not win, you can still buy tickets online at reasonable priced tickets in my opinion for the fun experience:
Adults – $18 to $22
Child – $5 to $10
GOOD LUCK!
To be honest, I was scared counting down to maidless days. After enjoying life without the endless house chores, the thought of going back to doing them worried me. It is not so much as in whether I will be able to cope, it is more about losing the quality time with the kids, if I will step into the house after work with a foul mood seeing a messy house and stepping on oily, sticky floors. I had been through that phase and it was not something I wish to reminisce about.
read more
I have been out of action from my blog for 2 months! The main reason for my absence on the blog is because I was stuck in migration of my blog to self-hosted WP… Finally!! While I thought it could be as simple as giving my password to the Bluehost support and...
read more
The run events that can survive for 10 consecutive years must be quite something and deserve a look into why they remain popular! Come January 27, 2018, Safari Zoo Run is going to be held for the 10th year raising awareness for wildlife conservation. Now, for any kind...
read more